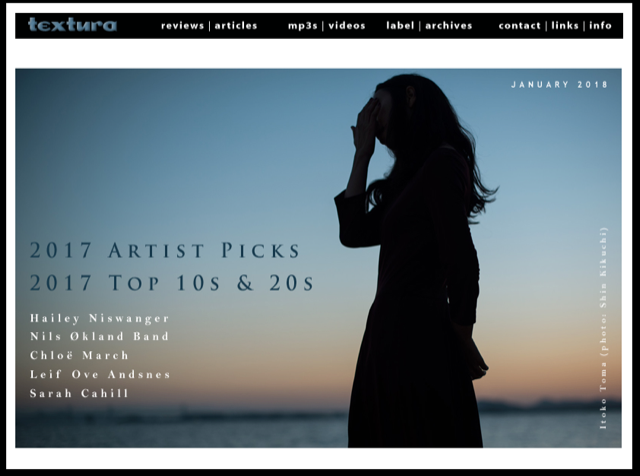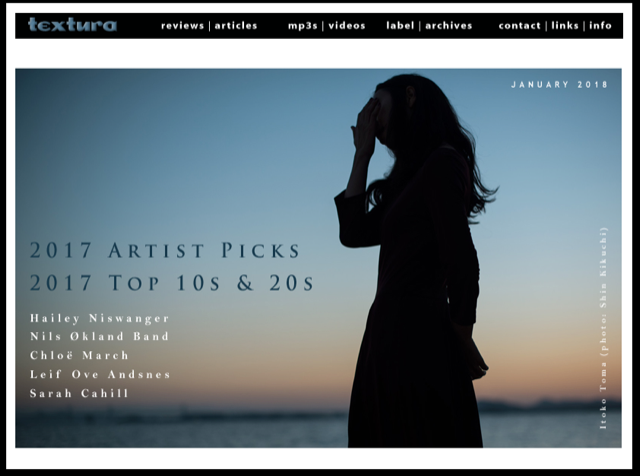 web誌「textura」の2017 ELECTRONIC / EXPERIMENTAL Top 5 に選んで頂きました!
私のことをExperimentalと評して下さるweb誌から5位を冠して頂けるなんて、
こんなに光栄なことはありません!!
そしてそして、レーベルとして、昨年10周年を迎えた Schole が3位にランクインしています!
節目の年に、なんて素敵なんでしょう。
併せてご覧いただければと思います。
外国の方々に気持ちを細やかに伝えたいのに、もどかしい思いを常々して居るので、
こう言った機会は本当にありがたいです。
この場をお借りして、textura の Ron さんにお礼申し上げます。
何度も丁寧に質問して下さってありがとう。
Thank you very much Ron !!
・こちらがその誌面です。どうぞご覧下さい。
↓ ↓ ↓ ↓ ↓
〈2017 Top 10s & 20s〉
http://textura.org/index.htm
〈2017 ARTIST PICKS〉
http://textura.org/archives/articles/2017artistpicks.htm
〈2017 TOP 10 LABELS〉
http://textura.org/archives/articles/2017top10s.htm
・記事をピックアップしました。(青字タイトルをクリックしていただくと過去の記事も併せてご覧頂くことができます。)
〈2017 Top 10s & 20s 〉
05. Itoko Toma: When the World Will Mix Well (Schole)
Itoko Toma issued her 2010 debut album, Dreamtime, on Masaktatsu Takagi's Felicity label, but judging from the sound and style of her follow-up, there would seem to be no better home for her music than Schole. Toma's collection features ten vocal and instrumental songs that the Kurashiki-based pianist has fashioned in many cases as elegant chamber-classical settings, and though the Japan-born artist is joined on the album by string players and guitarists, these exceptionally pretty songs primarily feature her piano and vocals.
〈2017 ARTIST PICKS〉
Itoko Toma (#5 Electronic / Experimental: When the World Will Mix Well, Schole)
Umitaro ABE's Cahier de musique: He's a composer and pianist who has a background in classical music. His music evokes the air of places, for example places like kitchens, hotels, stations, and museums. When I listen to his music, I'm reminded of those places at once and feel nostalgic. I like his imaginative and emotional music very much.
Akira Kosemura's In The Dark Woods: I like his sensitivity and elegance so much. Each time I listen to his works, they heighten my own sensitivity. The title song knocks me out over and over with its sensitive melody and beautiful images.
〈2017 TOP 10 LABELS〉
03. Schole
Releases from Akira Kosemura's label have repeatedly appeared in textura's year-end round-ups, and this year was no exception, with those by Itoko Toma and the label head himself nabbing upper-level spots on the list. Schole has brought an incredible number of ambient and contemporary classical releases into the world since its 2007 inception, and hopefully will do so for a long time to come.
・2017年にヘビーローテーションしていたアルバムを+。
〈2017 ARTIST PICKS+〉
::: Island Songs / Ólafur Arnalds (2016) :
I quite like his way of making music.
In his works, I find simple, beautiful motifs. His music is comprised of them, layered in complicated constructs, and rich sounds. It's just a magic! I am sure I will spend a lot of happy time with his music from now on!
  
::: PREHENSION / joep beving (2017) :
He plays piano. I like his piano performances so much. I find drama in every sound he plays. Each note has its meaning just like the words of a poem do. Neither classical, nor jazz, his music has created a new genre, I think. I listen to his music often with respect!